Friday, June 14, 2013
FRIDAY FOUR FILL IN FUN
Welcome to the weekly Follow Friday Four Fill-in Fun Blog Hop! Hosted by Hilary G.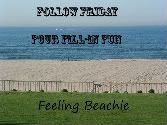 This week's co-host is BETH ANN from
IT'S JUST LIFE
who came up with the last statement!
This week's statements:
1. Sometimes I wonder if I should __
call and say "I'm sorry"
but I know I won't…
because I didn't do anything.
2.
Chocolate
____is my favorite flavor of ___
Pie, Cakes or ice cream.
3. The thing I remember most vividly about ______
my childhood
is _____
taking train rides to Pittsburg, PA to visit my grandmother Baba.
4. When I am honest about it, I really _____
miss working.