FRIDAY FOUR FILL IN FUN
Welcome to the 115th weekly Follow Friday Four Fill-in Fun Blog Hop!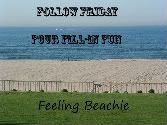 This week's co-host is PAM from T
ROOPPETRIE
who came up with the last statement!
This week's statements:
1. I love that my ___
cockatiels
has ___
laid four eggs
because now I ___
might get a baby cockatiel.
2. Sometimes I wonder how people lived without ____
TV's
in the past.
3. I love to get ____
letters
in the mail because
___

they brighten my day up

.
4. I If I could change the temperature today to____
60 degrees and sunny with some wind
then_____
I wouldn't need a raincoat
.