Five Question Friday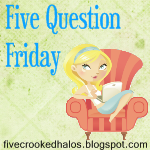 I appreciate that my stepchildren's Dad is very........
Sweet
Caring
Stands by my no matter what
2. D
o you always wear your seat belt?
3.
Do you dream and do you remember them?
I dream about every night, I remember most of them
4.
What is one thing you swore you'd never let your kids do before having them, that you have now changed your ways about?
I don't have any children of my own. My stepchildren are adults. I don't think I ever thought about if I had children what I would never let them do.
5. I
f you could be granted one wish, what would it be?
That my stepchildren and grandchildren have a happy and healthy life!