It is time again for Friend Makin' Monday. If you have a blog, I would like to invite you to answer the questions as well. Leave me a comment here, so I know you are playing. Then you can also leave a comment over at
All The Weigh
, so other folks can check out your answers as well. It is a fun way to connect to other bloggers.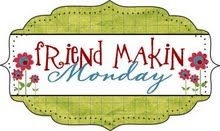 1. Does your blog have one overwhelming theme?
No


2. How did you come up with the theme(s) for your blog? Was it intentional?
Just what I thought of


3. Share something cool that has happened in your life as a result of blogging.
Nothing really


4. How much time to do spend reading blogs everyday?
A few hours


5. Do you blog on the weekends?
Yes


6. Do you keep track of your stats? Do they matter to you?
No, they really don't matter to me
7. How do you decide how much to share about your personal life?
If I want to share something about my personal life, I usually go ahead and do it


8. Do you aspire to be a writer, or did blogging happen for some other reason?
Not at all, I'm a pretty bad writer! It was just another site I found and like when I found bloggers doing meme's. I love doing memes


9. As a blogger, do you think it's more important to write for yourself, or for your readers?
For myself...It keeps me sane


10. What kind of plans do you have for the future of your blog?
Hope to share more of my life