Five Question Friday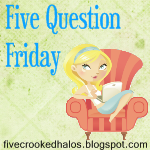 Welcome to Five Question Friday!!



Rules for 5QF: Copy and paste the following questions to your blog post, answer them, And then hope on over to My Little Life and LINK UP!

Oh, and remember (pay close attention...this is the important one)...HAVE FUN!
1. W

hat is a hobby you would love to learn and why?
To sew....I'm forever needing something fixed, And now with me dieting I'm going to have alot of things taken in. Now to find a seamstress here in Ohio, that should be fun! Maybe I'll just take a trip to PA when the time comes
2. W
hat do you wish you could have delivered to your house but does not deliver?
Right now I could go for some "Hot Wings" from The Deck but of course they don't deliver
3.
What's your favorite snow day activity? Inside and out?
I'm really not an outdoor person, But I do love going for walks while it's snowing.
Indoors hubby and I play tri~Omino's when we are not playing around on the computer
4.
Would you meet a stranger from an Internet dating site?
No, I'm married....Even if I wasn't I don't think I would,just not for me. I'd keep thinking they was some kind of killer....
5. I
f you had to spend 35 hours in a car with 4 other people, who would you choose?
Wow 35 hours in a car, It really wouldn't matter who was with me cause 35 hours I would be getting a good sleep. Yes I'm a car sleeper.
I would want my Hubby, Stepson, Daughter~In~Law, Stepdaughter, Son~In~Law and all 7 of my Grandchildren