FRIDAY FOUR FILL-IN FUN
Welcome to the weekly Follow Friday Four Fill-in Fun Blog Hop with Hilary G!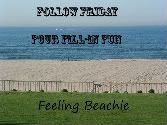 This week's co-host is Pickles from
Purrfectly Pickles
who came up with the last two statements!
This week's statements:
1. I can really use
something for energy
right now.
2. I like to
keep in touch with
my
stepchildren and grandchildren, as well as my brothers and sister.
3. The color of the sky right now is
a beautiful blue.
4. I get annoyed
so easily
because of
so many things.