Five Question Friday! 5/17/13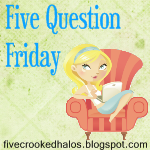 Welcome to Five Question Friday!!
Questions for Friday, May 17th:
1.
Do you have a doppelgänger?
My sister had told me awhile back that I do. She seen someone walk down past her house and she thought it was me. She called my cell and asked me I ignored her, I was at work at the time. But myself I never seen anyone or never took notice.
We was just told my husband did. Some guy walked up to him and said Jerry did I say or did something, Just because you and my sister isn't together that's between youns. He was right up face to face with my husband and thought he was this Jerry.
2.
Do you keep your car cleaned up?
Ya, Pretty much. I gather up the garbage out of it when we come home on the weekends. Since we got the new car Hubby has been good bring his garbage in from the car every day.
3.
What is a current fashion that drives you crazy.
About the only things that drives me crazy flower shirts, It's okay for other people but not myself
4. H
ow often do you go grocery shopping?
I do a big grocery shopping once a month. Unless we go into PA then I will pick up some meat cause it's cheaper then here in Ohio
5. What has been the best surprise of your life?
One when I got engaged, I never thought my hubby ever wanted to remarried. I never had a clue that he was going to ask me.
And
Two. When my stepdaughter asked me to go in to the delivery room when she had Harlie Quinn. I never had any children of my own and she thought it would be nice for me to be there. It was! I thought it was Amazing!