Five Question Friday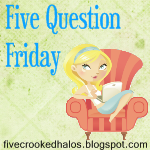 Welcome to Five Question Friday!!
HAVE FUN!
Questions for Friday, May 10th:
1.
What's the one personal hygiene thing you will not do in front of your spouse?
Go to the bathroom when Mother Nature visits me
2.
What's your favorite thing about a newborn?
The new born smell
3. W
hen is "too young" to have a Facebook account?
Anything less than high school by then they should have internet safty...If you have a child on facebook you should be his/her friend. I think it's unwise to let your child have free range with any parental guidance
4.
What are your hoping for for Mother's Day?
I would love to see my stepchildren, but I know that is impossible
5. What was the best field trip you ever took in school?
The Science Center