Friday, May 10, 2013
FRIDAY FOUR FILL-IN FUN
Welcome to the weekly Follow Friday Four Fill-in Fun Blog Hop! by Hilary G.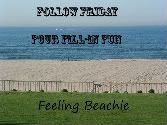 This week's co-host is UTLEY from
UTLEY'S TAKE
– He came up with the last two statements!
This week's statements:
1. If
it doesn't rain tomorrow or Sunday
then
we are taking the dog to the park.
2.
JR
is the
love
of my
life.
3. Once, I was surprised to find myself
deciding to move from PA to another state.
4. To keep from going crazy, I
spend alot of time on the computer talking to my friends from PA.