Five Question Friday! 4/12/13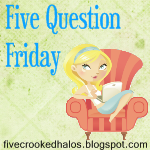 Welcome to Five Question Friday!!
Questions for Friday, April 12th:
1.
Where do you hide things from your kids at?
I don't have kids so I don't have to hide anything
2.
What is your favorite rainy day activity for bored toddlers?
Games
3.
Are you a punctual person or are you always running a few minutes (or more!) late??
Punctual, So I better get off her and finish getting ready before i make us late to get on the rode to PA
4. When eating out, do you prefer off the beaten path "Mom and Pop" cafes or tried and true national food chains?
It depends what we are hungry for....If we see a place we have never tried that where we will go.....Can't wait to get to PA, Bud Murpheys Pizza~~Yummmy
5. Does your significant other snore? Do YOU snore?
Wow...Hubby snores up a storm!! Myself, I never heard myself so I don't think so
Okay, Off to PA till Monday...Hope everyone has a great weekend!