Five Question Friday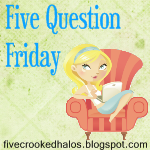 Welcome to Five Question Friday!
HAVE FUN!
1.
Would you go to your high school reunion?
Never been to one, I can't see in paying to see people you don't like. I keep in touch with the ones I did
2.
What's something that you've recently splurged on; either for yourself or someone else?
Gifts for my daughter-in-law's baby shower. It's next weekend and she's due around the end of May
3.
How do you handle your child's fever?
I don't have any children
4.
What's the nicest thing to happen to you lately?
After getting out of the hospital last month my landlord Sue who lives upstairs appartment came down everyday to check on me and brought me lunch down and also brought dinner down for me and the hubby
5. What is your current favorite song?
"The Keeper Of The Stars" by Tracy Byrd