Pondering with a purpose ~~ Green
March 14
As usual I am joining Brenda Youngerman for Pondering with a Purpose: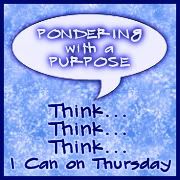 Todays prompt is: Green
My birthstone is emerald.
The thing about green is...It's the only color I don't like.
I have only one thing green in my house and that is my dads lift chair. I can't get rid of it so I put a cover over it.
~~~~~~~~~~~~~~~~~~~~~~~~~~~~~~~~~~~~~~~~~~~~~~~~~~~~~~~~~~~~~~~~~~
Pondering with a purpose ~~ Watch
March 21
As usual I am joining Brenda Youngerman for Pondering with a Purpose: