Follow Friday Four Fill~In
Welcome to the weekly Follow Friday Four Fill-in Fun Blog Hop!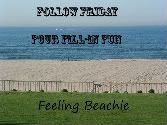 Each week, Hilary plans on listing four statements with a blank for us to fill in. This week's co-host is Beth Ann from
Its Just Life
– she came up with the last two statements! This week's statements:
1. My favorite advice to give is ____
don't leave opportunities pass you by.
2. A few years ago I stopped ____
carring about what people said or thought about me.
3. The weather around me ______
is still chilly and calling for snow this week
tends to lend itself to___
me hoping it lasts a little while longer
.
4. 2013 is both ____
drama free so far
and___
peaceful
.