Five Question Friday....
Sitting here outside watching "Princess" and "Angel" play. It's 46 degrees out, It got warmer than it was suppose to be. Princess and Angel loves this big yard, I just wish Angel would stay out of the creek.
Let's see the Questions for todays Five Question Friday.......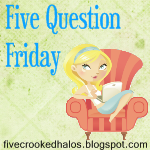 2.
What was your room decorated like when you were a child?
Blue Carpet and White Walls.....With Barbies all over and a few Shaun Cassidy posters on the wall
3. D
o you have any traditions for Easter? If so, what? and do you have a why behind that?
We have easter dinner at home, this year it will only be hubby and I....Will do Easter baskets for us and Princess and Angel
4.
Do you get Good Friday off? If so, any plans?
I don't work and hubby's boss is Jewish so he doesn't have it off, he won't even get off early
5. D
id you wear hats & white shoes to church on Easter? (Or was that just in the South?)
I wore white shoes but never a hats