Five Question Friday!! 3/1/13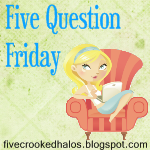 Let's get to the party!
Welcome to Five Question Friday!!
Questions for Friday, March 1st:
1.
What was the most productive thing you have done this week?

I made it through a three day detox diet while making stuff for dinner for JR that I like and was hungry for~~ like stuffed peppers
2.
Enjoying the winter or ready for spring?

I enjoy winter!! I love these chilly days and walking in the snow, with snow flurries coming down
3. A
re you an introvert or extrovert?
Is your spouse the same as you?

We are both introvert.
depending on the situation. If we are out, one of us will pick up and become extrovert.
4. W
ould you rather go without music or television for 1 year?

I would go without music.
I can't miss wrestling! I watch wrestling four days a week!
5. H
ave you ever been truly scared of someone?

Yes....