Five Question Friday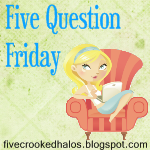 Welcome to Five Question Friday!!
Questions for Friday, July 12th:
1. W
ould you rather pay for house cleaner or spa day?
Spa day sounds really nice!
2. W
ho plans what gifts you get for holidays, you or your spouse?
Me! hands down. Hubby don't even give me any advice
3.
How many hours of sleep do you get? Do you need more?
I get about 5 hours a night ~ I go to bed about 2 am get up at 4 with hubby make him breakfast and get his lunch together and put Princess and Angel out and back in bed about 4:45 the up between 7:30 & 8:00.
I do take a hour nap around 1:00
4.
Do you like your hair long or short?
I have had long and short hair both, It has be medium length for awhile now. My hair does need trim
5. When was the last time you were pulled over and what was it for?
I have never gotten pulled over when I drove.